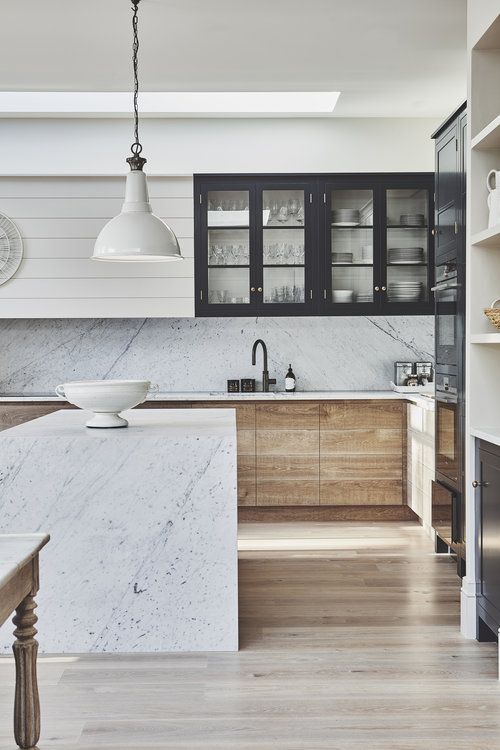 Upcoming Trends
It is officially a new year, which means new design trends! Every year designers will predict what they see as the next big thing for the coming year. These predictions will not necessarily be agreed upon by everyone and they are not always 100% accurate. The trends are what designers have been seeing more and more and what they expect to see in the future. Not everyone has to love them or use them in their space.
In fact, the idea is to try to design by keeping classic ideas prominent and using trends minimally. This way the space will likely stay current for much longer! The kitchen is where this can get a little tricky because most of what is in that space is there for the long haul. Although it can be a risk, don't be afraid to utilize a design trend just because it may not be popular down the road.
Photo Credit: http://blakeslondon.com/herondale/cm4xlp1eu35cx2gnm478ub5kphm1p9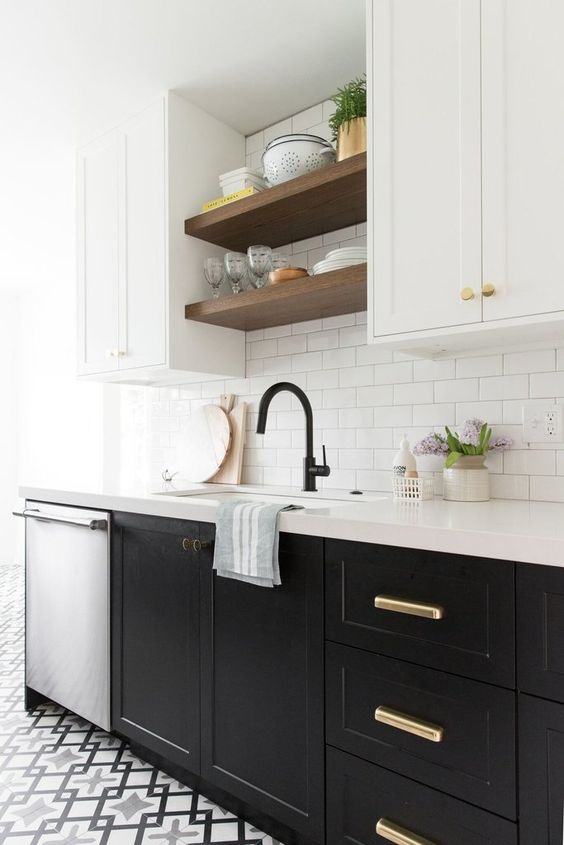 Black
Black was beginning to make a comeback last year, but will be used much more frequently and in more impactful ways. Before it was just an accent color, now it will take center stage in home designs. It will still be used for hardware, fixtures, and other smaller elements, but also for cabinetry, tile, and paint color.
Although black is a neutral tone, people seem too afraid to use it in their spaces. There are many reasons for this, the most common being that black is a very harsh color that can greatly darken a space. The key is to combine the black with light, bright colors like white. Adding some warmer tones, such as stained wood, can also help mitigate that problem.
Photo Credit: https://www.homebunch.com/black-white-interior-design-ideas/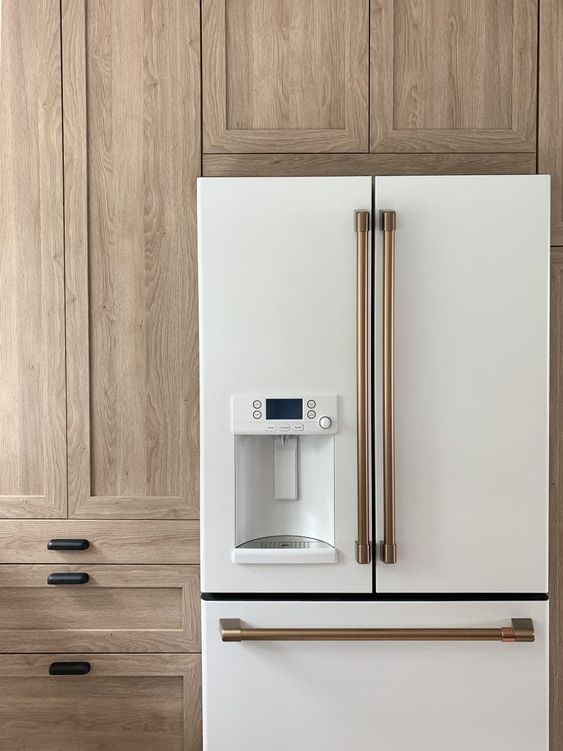 Colored Appliances
Colored appliances are making a big comeback, while stainless steel is definitely taking a step back. Recently the market has seen an influx of appliances that are not the typical stainless steel. This includes slate, black, and white. There are even some other colors that are taking the spot light away from neutrals. Navy blue, forest green, bright red and other retro colors have been spotted in kitchens across the country.
This trend is far from new, but it has definitely been modernized and brought into the 21st century. This trend is refreshing after the age of stainless steel, which may be coming to a close. There is nothing wrong with stainless steel appliances and they will still look perfectly acceptable in future kitchens, but this is a nice reprieve.
Photo Credit: https://www.chrislovesjulia.com/the-white-and-brush-bronze-cafe-appliances-that-have-my-whole-heart-in-the-fullmer-kitchen/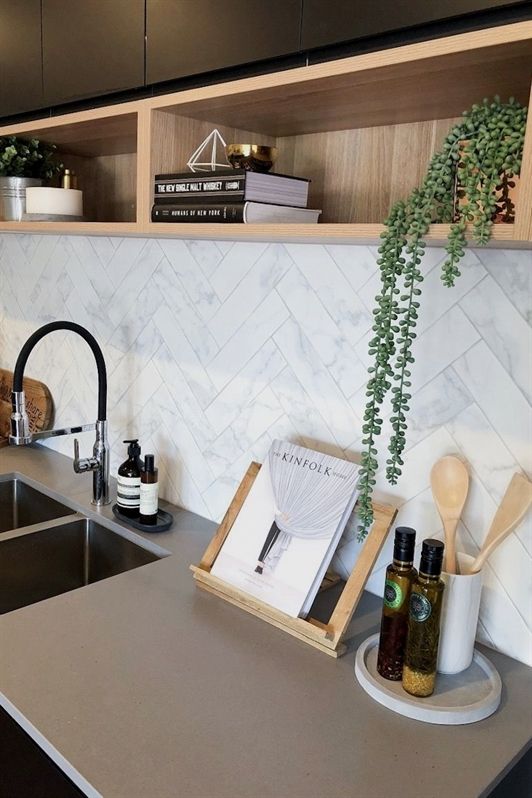 Honed Countertops
This trend is hit or miss. Honed countertops have a softer, more natural sheen to them. They are also commonly referred to as matte countertops. This finish can apply to any material that is used for countertops, including quartz, granite, marble, concrete, etc.
While this finish may be aesthetically appealing, it is not the most practical. Honed materials tend to make imperfections and smudges more visible. They are also much more maintenance because they normally have to be sealed to keep them from staining and to protect them. This option is certainly beautiful, but it may not be the best choice for someone who uses their kitchen frequently or does not want to have to keep it pristine.
Photo Credit: https://stylecurator.com.au/matte-black-and-timber-accent-kitchen/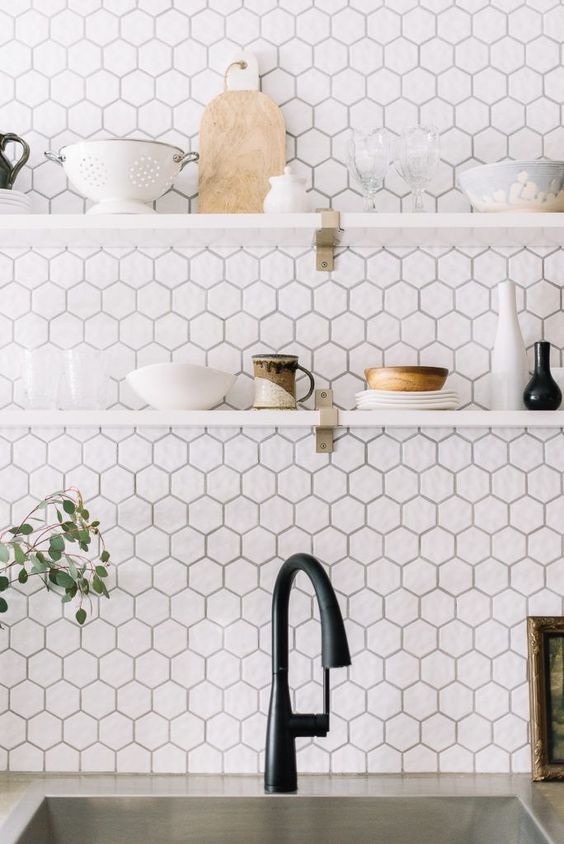 Interesting Backsplash
This is one trend that is long overdue. Subway tile is extremely versatile and there are many different options, but it is also very overused. There are so many different options for tile out there. It is time to think outside the box and get creative. Designers and homeowners are dying to break the mold and try something different.
Some of the designs that will be exploding in popularity this year will be hexagon (honeycomb) tile and herringbone. Natural stone backsplash will also be very popular in the coming year because people are gravitating more towards organic materials with the environmental crisis looming. In addition to that, there will also be an influx of geometric tile making its way into kitchens and baths.
Photo Credit: https://www.allisajacobs.com/7-beautiful-backsplash-tile-alternatives-to-white-subway/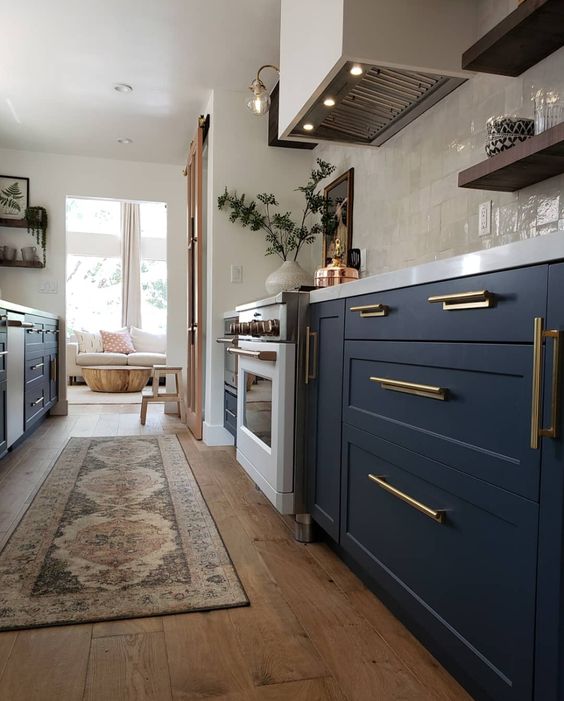 Pops of Color
Although they have not lost their appeal completely, the days of pristine all-white kitchens are in the past. This shouldn't come as a surprise because it has been coming for quite some time. Designers and homeowners are getting tired of the white kitchen trend. Muted colors such as, Navy Blue, Forest Green, and Rust Red have been on the rise for years because they are very earthy.
These colors will find their way onto cabinets, walls, and other finishes in the kitchen. They will bring life and interest to otherwise bland and boring spaces.
Photo Credit: https://www.kismet-house.com/kitchen-remodel-before-after-plus-sources/
These trends are sure to spice up any kitchen. Just remember that these are trends and may not stand the test of time. They are meant to fade in and out of style so be sure to pair classic elements with them to keep it safe, unless you plan on remodeling again in the near future.