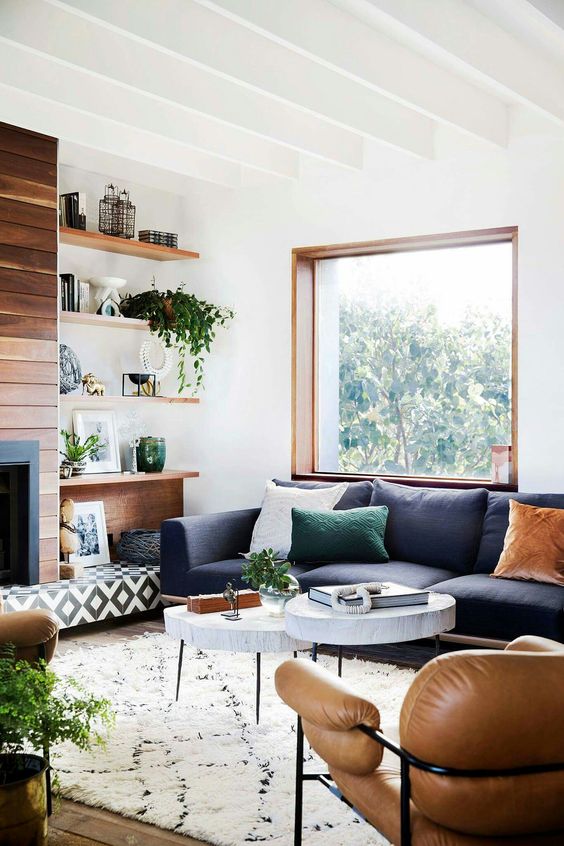 Emerging Trends
This is a popular time among design experts and professionals to think about the new trends that will be coming in the new year. A new year means fresh ideas and new designs. Most trends tend to fade within a year or two, while some can re-emerge after years of being dormant. In any case, this next year will be no different in terms of emerging and fading trends.
2019 will be filled with a much more calming, natural color pallet. Some things that will be emerging are more neutral wood tones. Oak is even making a comeback, but not in the way that you are thinking! As far as color goes, the predictions have been leaning towards the warmer tones of the color spectrum.
Photo Credit: https://i.pinimg.com/originals/66/d7/f6/66d7f63c88c69e7775b1a45ba71eafba.jpg
Neutral Wood Tones
White kitchens are at their peak of popularity, but they are slowly losing steam and some people are looking to break up all that bright, stark white. In the past this has been done by using contrasting countertops, backsplash, flooring, or wall color. This next year will welcome a growing trend of using neutral wood tones to bring some interest and texture into a space. This can be done by changing up the color of the cabinets, having some stand out and make a statement.
These wood tones are also gaining popularity on their own as well, with many people ditching the once popular cherry cabinetry in favor of something more natural and subtle. This color pallet is most likely stemming from the current interest in saving the environment, even though the wood stain that you chose will not help save the earth from global warming.
Photo Credit: https://www.instagram.com/p/BrfbJzMFiUR/
Warmer Color Pallet
The colors are now moving towards the warmer end of the spectrum. Even the more neutral gray that has taken center stage in more recent years is shifting from cooler grays to warmer grays. Most people are probably wondering how long that trend will last, and while it has shifted slightly it seems to be sticking around for a bit longer. This warm, neutral will pair nicely with the subtle wood tones for an accent.
Navy blue has been on the rise for quite some time and it seems to be no different in the coming year. Now it is being seen more in kitchen design, which means its at its peak in popularity. Hunter green, cavern clay, and living coral are all predicted by various color experts to be very popular colors this year. All of them tying back to nature in some way.
Photo Credit: https://www.durasupreme.com/blog/ideas-creating-breakfast-beverage-baking-centers-your-kitchen#.XC4wC1xKhhF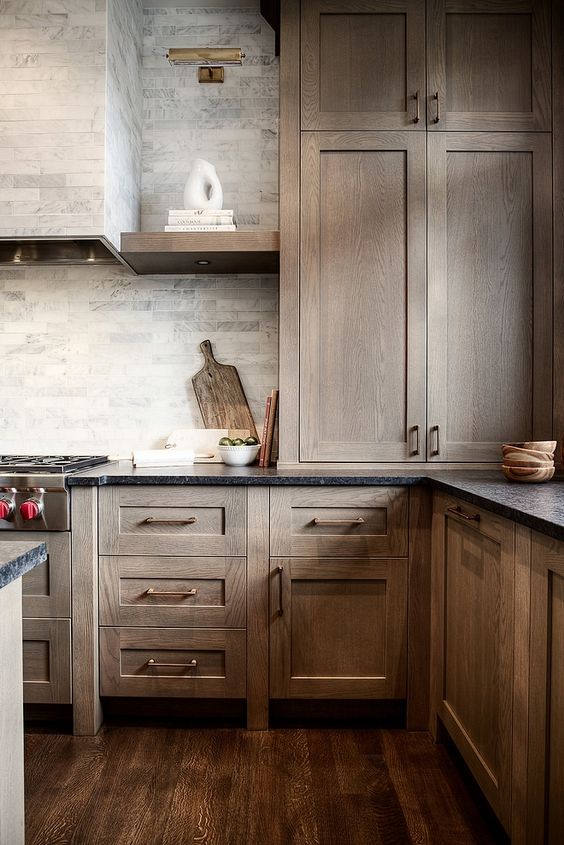 Oak's Comeback
All things old do in fact become new again! However, this time there is a twist. Whenever someone thinks about oak the first thing they picture is the builder grade oak cabinets that went into every home in the 90's. These are not those cabinets. The new and improved oak has a much more subtle look to it.
Oak is a wood that has become very versatile because it has a very nice texture that is most commonly used in more rustic/farmhouse kitchens. Lately it can also be seen in the contemporary market because it brings some interest to the clean, linear look of that particular style. Painted oak has also gained popularity because it is normally more cost effective than maple and has a more distinct look to it.
Photo Credit: http://www.homebunch.com/transitional-custom-home-design/
Introducing Black
Black is becoming much more popular in interiors in a big way. It is being used with white for a dramatic contrast then paired with rustic, warm wood finishes in order to tone it down and make it feel more natural. This also reduces how dark it makes the space feel, which is often why so many fear its use in their spaces.
The best part about black is that there is no hue to it, just like white and gray, which makes it the perfect neutral. It can also be used many different ways in as much or as little as necessary. It can be used as the main color of the kitchen cabinetry or it can be used on the island as an accent. It can be used on the fixtures in the kitchen or bathroom to make them stand out. It can even be used as a decor accent in other areas of the home.
Photo Credit: https://honestlywtf.com/home/black-kitchens/
We have a lot to look forward to for the coming year! 2019 will be a year full of new and beautiful interior design. Colors are shifting to more warm and natural tones that mimic nature more. It is clear where our focus will be for the coming year. Aside from the aesthetics of design there will also be far more environmentally friendly design practices taking place as well.