Bathroom Inspiration
Aside from the kitchen, the bathrooms are generally the next most work-intensive remodeling project on the to-do list of homeowners. Just like with kitchens, there are certain design trends that come and go. No matter how conscientious someone is about keeping their design classic, there will be something that will eventually go out of style. Be sure to remember that and try not to stress too much over it!
Things may be constantly going out of style, but that also means that they come back eventually! This is what can be considered the cycle of design. Try to keep the permanent fixtures and materials simple and be more bold with the things that are easier to replace down the road.
Not all of today's popular styles look super trendy. In fact, many of them are simply bringing a twist to old ideas or freshening up some classic looks. There is nothing wrong with incorporating something in the design that is popular at the time, besides the fact that in a few years it may not be. What the consumer really needs to understand is that something can be both classic and trendy at the same time.
Photo Credit: https://due-home.com/blog/tendencias-en-banos-2019-1/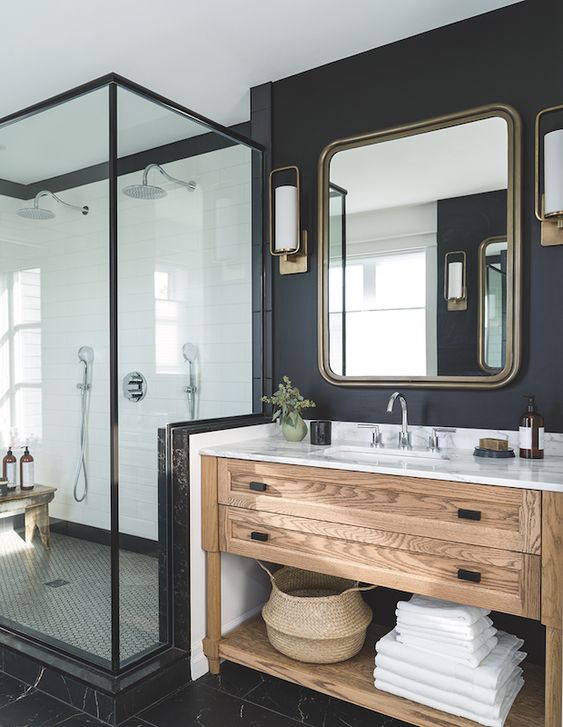 Black Accents
This is one of those trends that can also be considered classic in nature. Black has been increasing in popularity when it comes to fixtures, hardware, accent walls, cabinetry, and more! It is being used more frequently and in more applications than it was in the past, but this color is about as classic as it gets. The only color that could possibly be its rival would be white. These two opposites are the main neutrals. They are everyone's go to colors when the objective is a simple color scheme.
From a design perspective, the contrast that this color gives when paired with the right color scheme is exactly why it has become so popular. The days of glossy black finishes are over and matte black finishes have taken the stage. This was one of the ways that the color was revived. It looks much more contemporary than before, which also helps add to its growing popularity. This is one trend that is in it for the long haul because of its versatility and classic nature. Don't shy away from this trend!
Photo Credit: https://houseandhome.com/gallery/2019-bathroom-trends/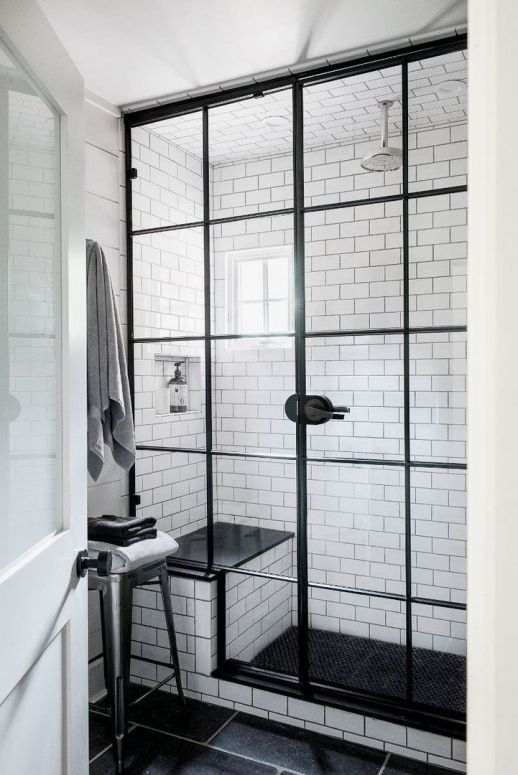 Industrial Enclosures
These shower enclosures have been gaining popularity for the past few years. This is thanks to the growing industrial style and the desire to bring it into homes. This can definitely be considered something that will be more likely to lose popularity, but it is most likely to stick around as long as industrial style is still so desired. These enclosures can generally be found in a black finish and will often resemble a large window, such as one from a warehouse.
These enclosures have very clean lines and have a contemporary look and feel to them. They tend to lean more towards one design style, but they are versatile enough that if done well they could be used in a variety of styles as well. Thanks to the black finish they will also pair very well with most color schemes.
Photo Credit: http://www.manlikemarvinsparks.com/40-helpful-creating-bright-bathroom-ideas/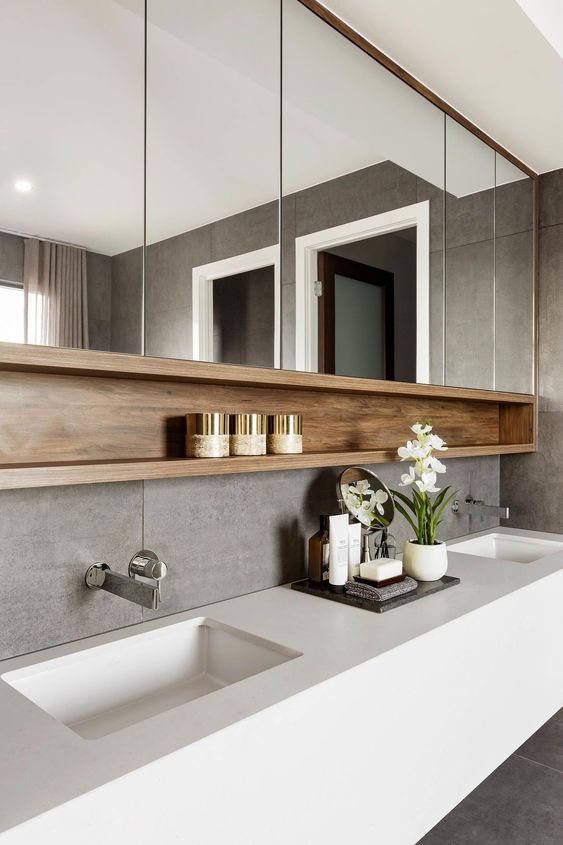 Wood Accents
Stains are making a comeback in a big way! In the past few years it was very rare to find wood tones in a design. They had taken a hiatus to make room for the white and gray design trend. That trend has and continues to dominate the market of design. Unfortunately, all of the gray color schemes have gotten boring and drab. By incorporating a warmer stain and wood tone it helps to liven up the space.
This brings much needed warmth, texture, and interest to the design. The most common stains that can be seen are more on the neutral spectrum. Bright red and orange tones are becoming less and less popular in this market because it makes it difficult to transition from one color scheme to another. A neutral stain allows the client or homeowner to change the color scheme as often as they would like without having to change every finish in the space. This development will help to stretch out the gray color schemes, which could help to make it more of a classic neutral and less of a trendy color.
Photo Credit: https://www.interiordesignmagazines.eu/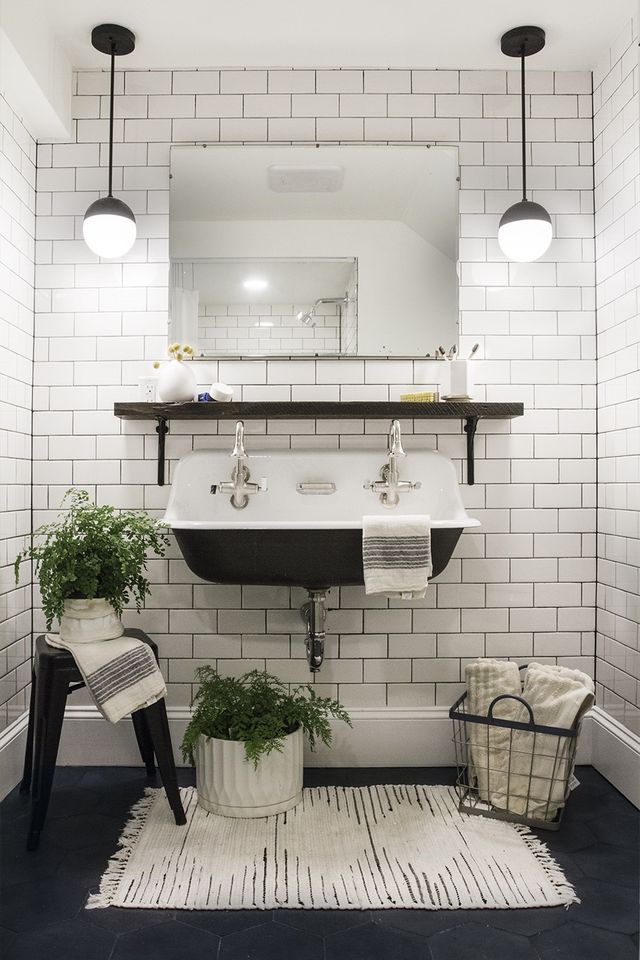 Pendant Lighting
Wall mounted lights have become a standard in bathrooms, whether it be sconces on either side of the mirror or a wall mounted fixture above. They have dominated the market so much that hardly anyone will consider any other options. It has become so standardized that companies are making wall mounted fixtures that coincide with the faucet and other fixtures. This idea is so common that it has become stale.
This was not always the case, so changing up this standard is like a breath of fresh air to designers everywhere. Pendant lights are most commonly seen in dining and kitchen applications, but they are steadily making their way into bathrooms everywhere. This was once not uncommon to see and it is nice to see another past "trend" coming full circle. This opens up the options tremendously in terms of style and design. It will add interest to a normally boring and forgotten space.
Photo Credit: https://www.bloglovin.com/blogs/deuce-cities-henhouse-3407166/basement-bathroom-reveal-5456423685
Statement Mirror
Last, but not least, is the mirror. In the past mirrors were just the last piece of the puzzle that often seemed like an after-thought. It was all about the function and less about the aesthetics. When this happens in design it almost feels like something is missing; like it is incomplete. Now mirrors are getting the attention they deserve.
They now make a statement and have become an important focal point in the space. This is done by using a contrasting material, a vintage piece, or by having it framed. It isn't just hung up on the wall anymore without an extra thought. It is now grounded in the design. The most popular mirrors are rounded in shape and less linear. This adds a nice contrast to all of the other sharp, linear features in the bathroom. It softens the space to create a space that feels more like a destination and less like pit stop.
Photo Credit: http://woyhome.com/78-luxury-farmhouse-tile-shower-ideas-remodel/
Most clients tend to focus so much on whether something will go out of style they don't consider their own opinion. In the end the idea of something being "trendy" becomes negative instead of positive. This is more of a consideration in interior design than other areas of the design spectrum because most homeowners are not able to make changes as frequently as needed to keep up with the changing markets. Clients just have to follow their instincts and what will make them happy and everything else should come second.