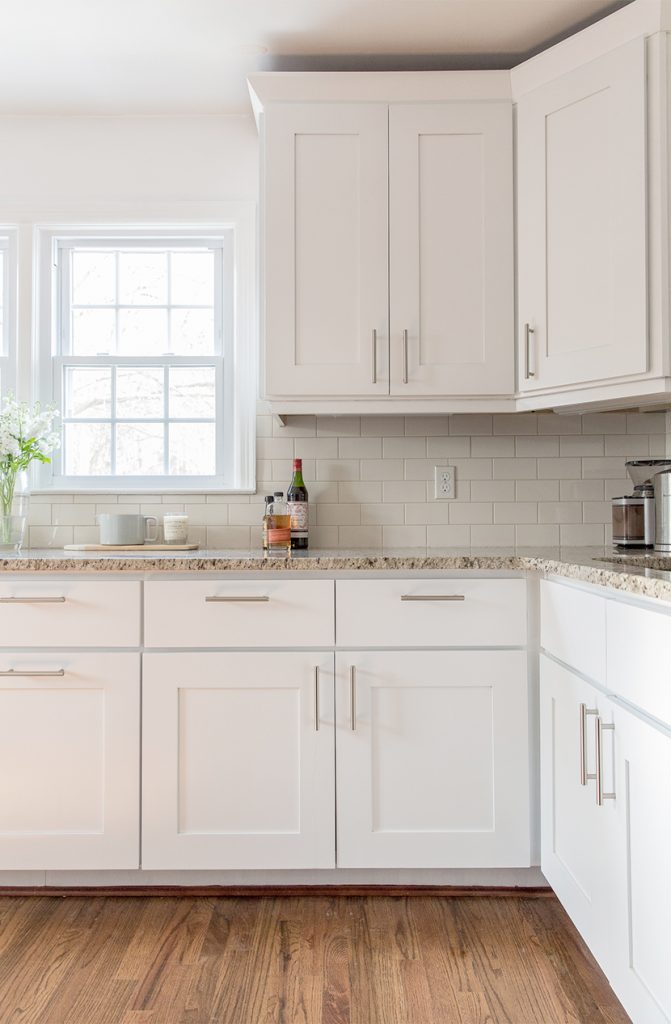 Taking Risks
The White Shaker Kitchen, a popular and timeless design style, however, it has become so popular that it has become static. When going with a white shaker, people tend to make more subtle design choices. This is normally because they are worried that if they make a choice that is more unique or different that it will go out of style in a few years and make their new kitchen feel dated.
Don't get me wrong, there is nothing wrong with a simple White Shaker Kitchen. It is classic, neutral, and will never go out of style. However, a design can be enhanced tremendously by making some minor, but bold design choices. For example, switching things up and doing some contrasting cabinetry can certainly spice up an otherwise monotonous kitchen. The possibilities are endless.
Photo Credit: https://thefreshexchange.com/a-simple-kitchen-update/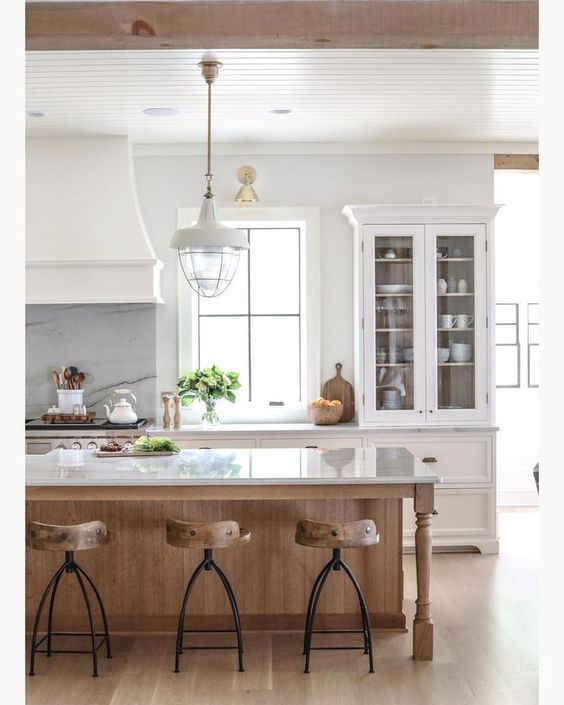 Contrasting Cabinets
By thinking outside the box, a homeowner can take an ordinary design and make it extraordinary! Contrasting cabinets is one of the easiest ways to add some flare to your kitchen. Some common ways to do this are to have a contrasting island or hood. Another way could be to have the wall cabinets and base cabinets different finishes.
This effect will bring some much needed diversity to any kitchen. This can also be done by simply changing the color of a painted door or by switching things up with a stained door to add some warmth and texture to the space. Either way, the space will pop with the added interest.
Photo Credit: https://www.instagram.com/p/BkdoBMLlK6u/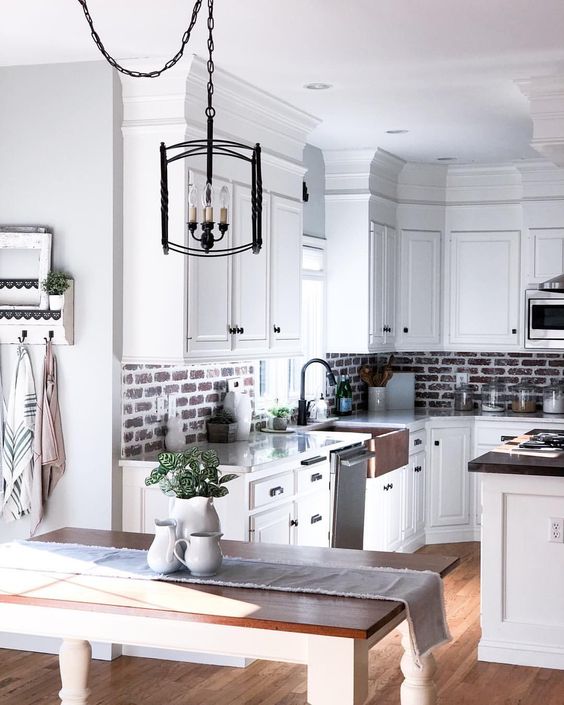 Interesting Backsplash
Backsplash is another area that holds serious potential. The classic 3 x 6 subway tile is a classic choice, but it has also become the safe choice! Even in the world of subway tile there are hundreds of different options that create a different look. From beveled subway tile to hand formed subway tile, the options are endless.
There are also other options out there that can spice things up a bit. One of the things missing from the average white shaker kitchen is texture. Texture can add so much visual interest to a design and break up some of the more monotonous finishes. Faux brick, for example, is a great way to bring some texture and color to a bland white kitchen. There are endless options out there for backsplash, including tile, metal, wood, stone, and more! So get creative!
Photo Credit: https://www.instagram.com/p/BeHViVWApEM/
Unconventional Countertops
Just like with back splash, there are many different options for countertops. Most commonly people tend to lean towards Granite, but thanks to the advances in technology there are so many options. Quartz is now one of the most popular materials for countertops because of how durable and low-maintenance it is.
In addition to the materials mentioned above, some other materials that can be used for a cooking surface include, concrete, butcher block, and stainless steel. Although these options are a bit unique that is exactly what will make a plain white kitchen stand out a bit. These options will add interest and further enhance the style that the homeowner is aiming for.
Photo Credit: https://onekindesign.com/2015/04/24/40-amazing-and-stylish-kitchens-with-concrete-countertops/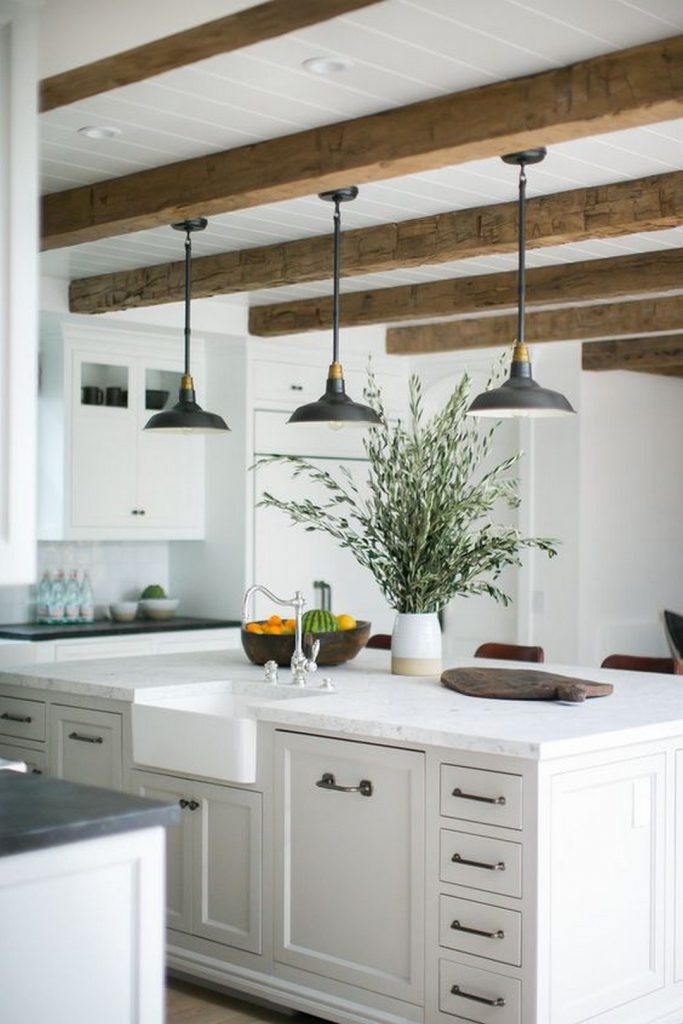 Ceiling Features
The ceiling is one of the most forgotten feature of any room. It is something that should always be thought of in terms of the design, but that does not necessarily mean that it always has to change. The best time to think about having a detail on the ceiling is when the space feels empty with out it. In a kitchen that has very little detail, it can turn it into something beautiful and interesting.
Ceiling details are also brilliant ways of adding texture to a space. For example, rustic beams on the ceiling is a rather simple look, but when paired with ship lap running perpendicular it makes a statement and adds more depth. These touches wrap up the look nicely and complete the design by adding a unique touch. Without adding some detail to the ceiling in a plain kitchen it looks somewhat unfinished.
Photo Credit: https://www.goodnewsarchitecture.com/2018/03/24/how-to-maximally-generate-kitchen-island-decoration-in-your-house/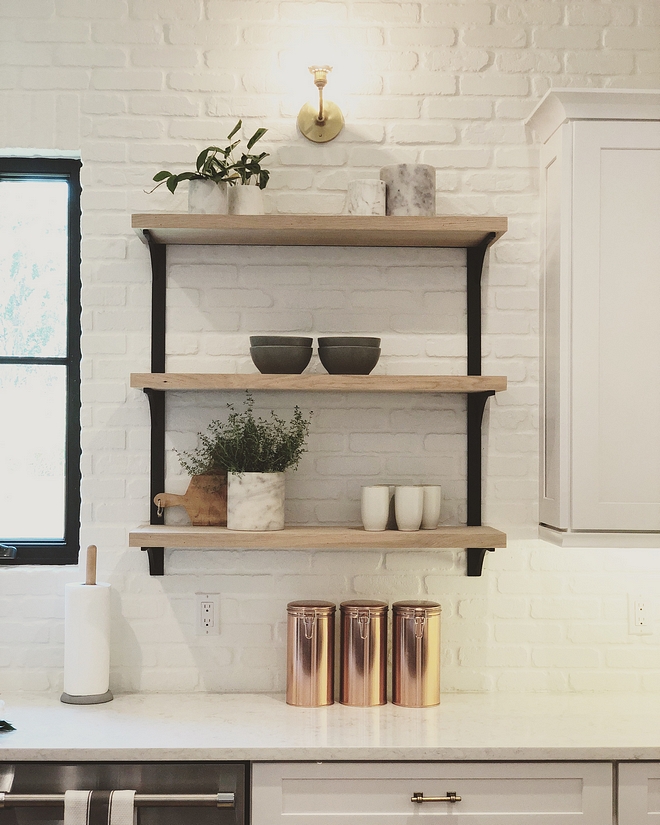 Open Shelving
Open shelving is a perfect way to break up wall cabinets or to get some storage into an otherwise difficult space. They can store dishes or can house a small kitchen garden. By placing shelving in the space means that you have thought more about the overall design and style of the space instead of just following the norms.
There are different ways to incorporate open shelving into any space. Floating shelves are perfect for the person who wants a very polished, clean look. Shelves with brackets are ideal for a more organic, modern approach. As far as placement goes, they can be used in a corner where it is normally very difficult to reach or they can be used in place of a standard wall cabinet. Either way, the kitchen will be far from boring.
Photo Credit: http://www.homebunch.com/florida-new-construction-family-home/
Lets face it, the White Shaker Kitchen is here to stay, but with these tips hopefully we can bring some fun twists to the tired classic! When designing your space, don't be afraid to take some risks. They can be big or small, but as long as you love it you will never regret it; no matter how much time passes!