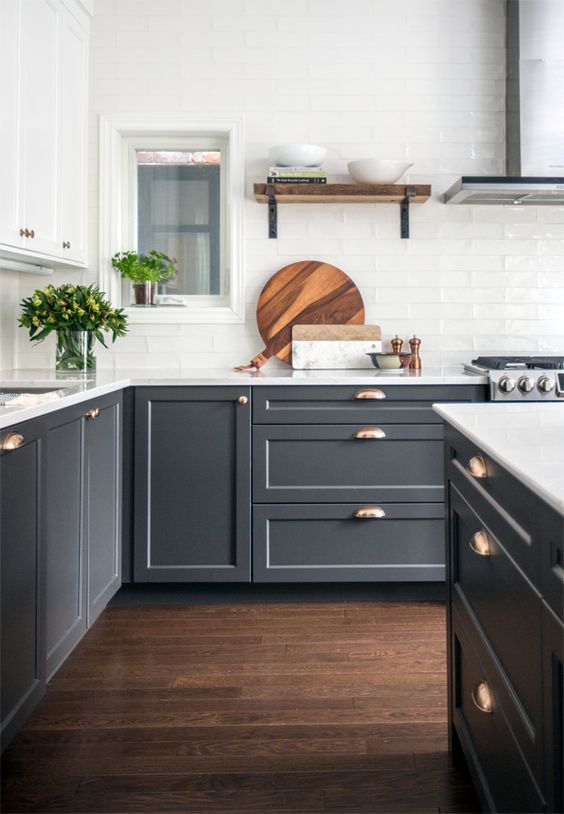 Kitchen Layouts
The layout of the kitchen is important because it will determine how functional the space can be and how it can be best utilized. The layout should create what is called a "work triangle", which is where the stove/cook top, refrigerator, and sink create a triangle within the kitchen. This concept is used to determine efficient layouts for the kitchen that are both aesthetic and functional.
This idea obviously works better with some layouts than others. For example, this can be very difficult to achieve in a single wall kitchen because all of the appliances are located along that one wall. Also, some homes may be better suited for some layouts better than others.
Photo Credit: https://jane-athome.com/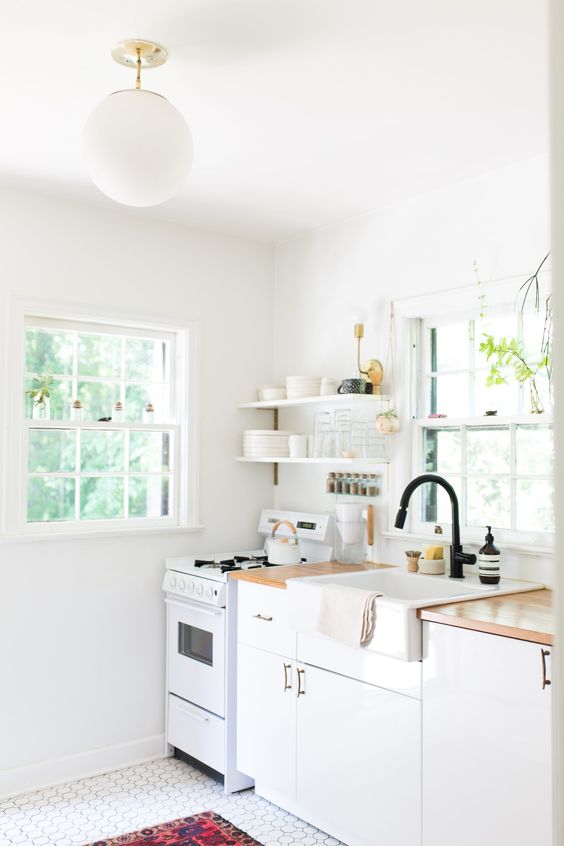 Single Wall Kitchen
The single wall kitchen layout is most commonly used in apartments and in smaller homes. In larger spaces, an island will usually accompany the single run of cabinets. This type of layout is also commonly seen in a more contemporary style.
This design is best used in a combined kitchen and dining area where wall space is limited. The table can also double as an additional prep space. One of the flaws with this option is that unless the appliances are streamlined and integrated, it can look rather cluttered. Other than that it is by far the most simplistic.
Photo Credit: https://www.architecturaldigest.com/story/one-wall-kitchen-storage-and-decor-ideas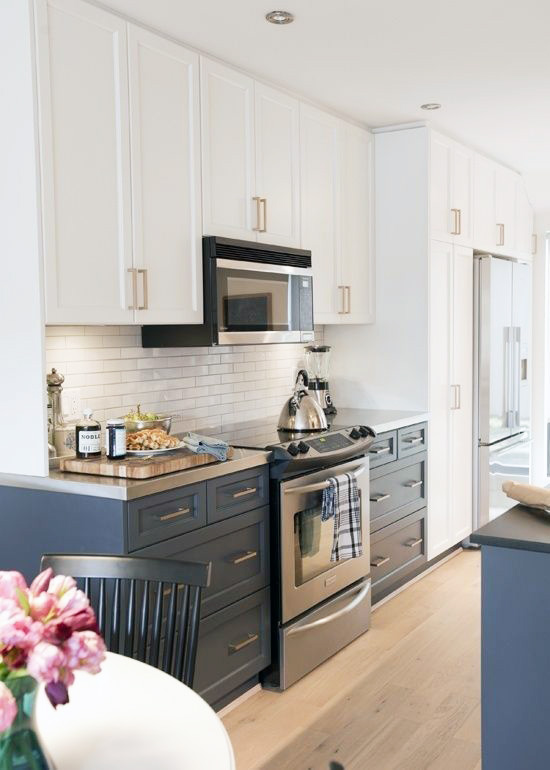 Galley Kitchen
Galley kitchens are commonly found in older homes and apartments. The open concept trend has made the galley kitchen a less desirable option. However, they are still perfect for more narrow and awkward kitchens because it makes the most out of the available space.
This layout is all about the cooking and prepping aspect of the kitchen and less about socializing and dining. They are one of the most functional options, unfortunately they also tend to be dark and can feel slightly claustrophobic without any natural light. It is important to take this into consideration in order to have a successful design.
Photo Credit: https://www.easydiyguide.com/choosing-new-kitchen-cabinets/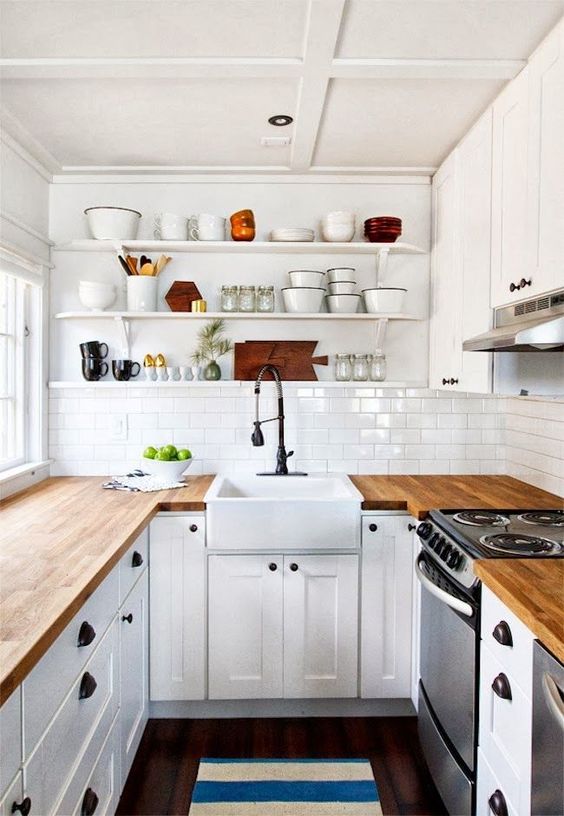 U-Shape Kitchen
This layout allows for a lot of flexibility within the design. Things can be moved and rearranged to allow for better functionality overall. This works well in both large and small spaces. If the space permits then a table or island can be included in the center for more work space or dining needs.
U-shaped kitchens can be easily placed adjacent to other living areas, such as dining and living rooms. This allows for a distinct separation while still allowing a connection and a site line to those spaces. On the other hand, if not done well then this kitchen can seem rather bulky.
Photo Credit: https://thefoxandshe.com/butcher-block-counters/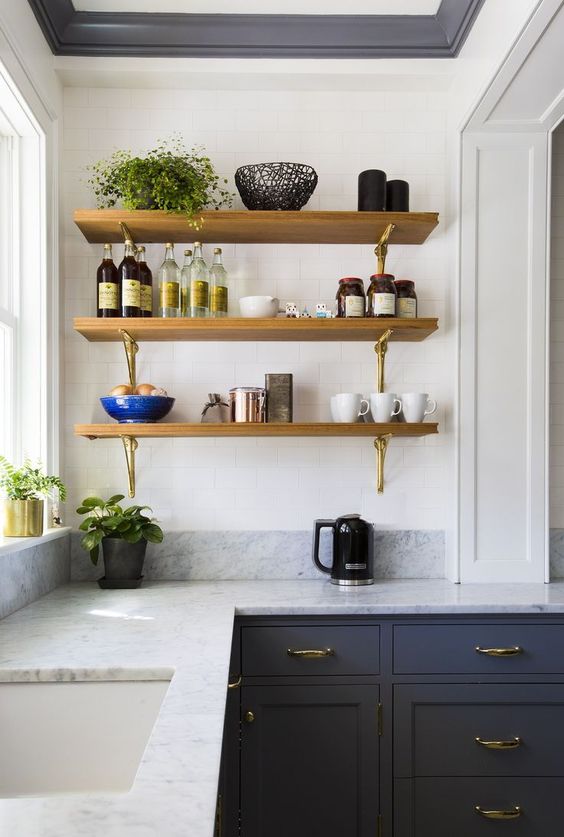 L-Shape Kitchen
With the open concept idea becoming more popular, this layout has naturally followed. It lends itself very well to most size kitchens. By positioning all of the taller units together, such as the refrigerator, pantry, and oven cabinets, then it will allow the space to feel more open.
This layout is very easily adaptable. It is very open, accessible, stylish, and social. It allows room for either a table or an island in the center. Unfortunately, fitting everything in while maintaining functionality can sometimes be a challenge.
Photo Credit: https://www.architecturaldigest.com/gallery/before-and-after-white-and-gray-kitchen-renovation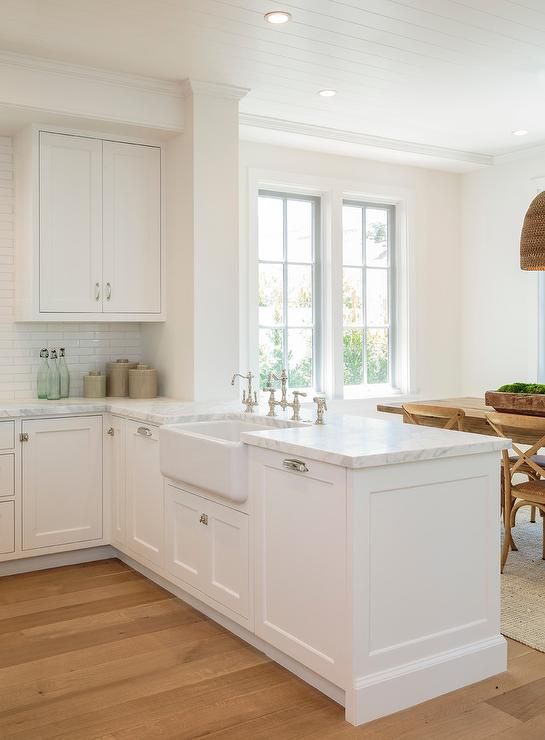 Kitchen with Peninsula
The peninsula is the perfect way to add some extra storage, seating, or prep area without needing more wall space to place cabinetry. The short span mimics all the benefits of an island, but takes up less floor space.
The peninsula tends to be an addition or an extension of one of the main layouts that is described above. It is most commonly added to L-shaped, galley, or single wall kitchens.
Photo Credit: https://www.runtoradiance.com/begins-kitchen-remodel/?epik=dj0yJnU9b2JPeXBWaWFZN0pib3Jad0ZZbUpZM0k2OWlQeXIya2Mmbj1TWENBWG1rcUtXMDBOcWppUm5qMjRRJm09MyZ0PUFBQUFBRnhrUjBN
Kitchen with Island
A kitchen with an island has quickly become the most desired layout for a kitchen. It tends to be the most open of all of the layouts, which means there is very little separation between rooms.
Islands can also house sinks, appliances, and other things that would not fit in the main part of the kitchen. A design that includes the use on an island will be very social. It is the perfect kitchen to entertain because it allows the person preparing the food to socialize.
Photo Credit: https://www.lovelyluckylife.com/white-and-navy-quartz-kitchen/